The nature of the Appraisal Phase is intrinsically multidisciplinary. It consists of a series of intricate and interrelated exercises that detail the project, compare the project to a set of feasibility criteria, and prepare it for procurement (see figure 4.2).
FIGURE 4.2: Overview of the Appraisal Phase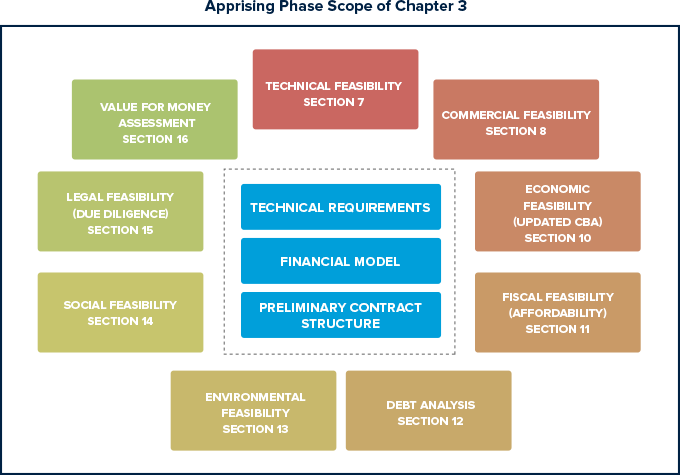 Note: CBA= cost-benefit analysis.
The key elements of the project that are progressively detailed in the Appraisal Phase are the technical requirements (section 4.2), the project contract pre-structure (section 5), and the financial model (section 6).
These three dimensions, presented in the following sections, represent a comprehensive description of the project that will be tested in several feasibility assessments presented in the subsequent sections. To a large extent, these feasibility assessments are interactive and depend on the conclusions of each other. However, it is paramount to recognize that each of those exercises is relevant in its own right, and each should reach a positive conclusion if the project is to be recommended for procurement approval.
Throughout the chapter, the central contribution of the Appraisal Phase to the preparation of the project for procurement is highlighted. During this phase, the government identifies activities required to mitigate project risks and advance matters that are the responsibility of the government before the contract is tendered (for example, conducting geo-technical tests when geo-technical risk represents a serious uncertainty to the project outcome, securing site availability for a facility, obtaining preliminary environmental clearances, and so on). Although preparation activities continue during the next phase, they should be finalized within the timeline estimated in the procurement plan and before the tender is launched.
The Appraisal Phase has been repeatedly used in many countries that have developed sound PPP programs. Frequently, the inclusion of appraisal guidelines as a part of more general PPP guidelines is a factor that mitigates failures in appraisal, saves time and cost in handling the process, and provides the right signal to the market of a sound, reliable, and above all consistent approach to PPPs[2].
This international experience allows us to identify a set of principles and practices that have produced the most effective results. Good practices related to each of the feasibility exercises are presented in the following sections.
[2] Some comprehensive discussions of country specific approaches to the Appraising Phase can be found in the following guidelines.