Where are We in the Process Cycle?
This part of the PPP Guide covers management of the contract during the Construction Phase of the PPP life cycle (delivery of the asset up to and including the commissioning of the asset). Therefore, all the general issues discussed previously in this chapter will apply. However, certain activities that are only relevant to the Construction Phase are discussed in more detail below. Box 7.5a and 7.5b deal with the learning objectives of this part of the PPP lifecycle.
In the previous phase, the tender was launched (through a Request for Qualification [RFQ] stage or by directly issuing a Request for Proposal [RFP] in some jurisdictions), bidders were qualified, proposals were received and evaluated, the contract was awarded, and financial close was achieved.
In this phase, the private partner delivers and commissions the different components of the project. The government implements its contract management framework, ensures that both the private partner and government perform their obligations, and manages stakeholder interfaces. See figure 7.4.
At the end of this phase, the project reaches the Operations Phase in which the infrastructure is operated and maintained to deliver services to users.
FIGURE 7.4: Where We are in the Process Cycle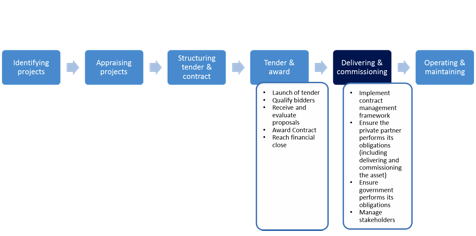 BOX 7.5a: Objectives – Construction Phase
The objectives of contract management in the Construction Phase are as follows.
To ensure that the private partner performs its obligations to deliver and commission the asset;
To ensure that the government performs its obligations in accepting the asset;
To manage stakeholder interfaces to support project outcomes;
To help achieve project objectives; and
To assist the project team in execution of effective contract management during the Construction Phase in PPP projects.
BOX 7.5b: Learning Objectives for Part B
This section will allow the reader to understand the following concepts:
The tools and processes used in managing the PPP contract during the Construction Phase;
How the PPP contract provides commercial drivers for the private partner's performance during the Construction Phase;
The techniques and processes for managing change during the Construction Phase;
The forms of corrective action that can be taken by the government if the Construction Phase does not proceed to plan; and
The importance of knowledge management.